Mediterranean Estate At Palatine 
Contemporary Mountaintop Gem with the best views in the Caribbean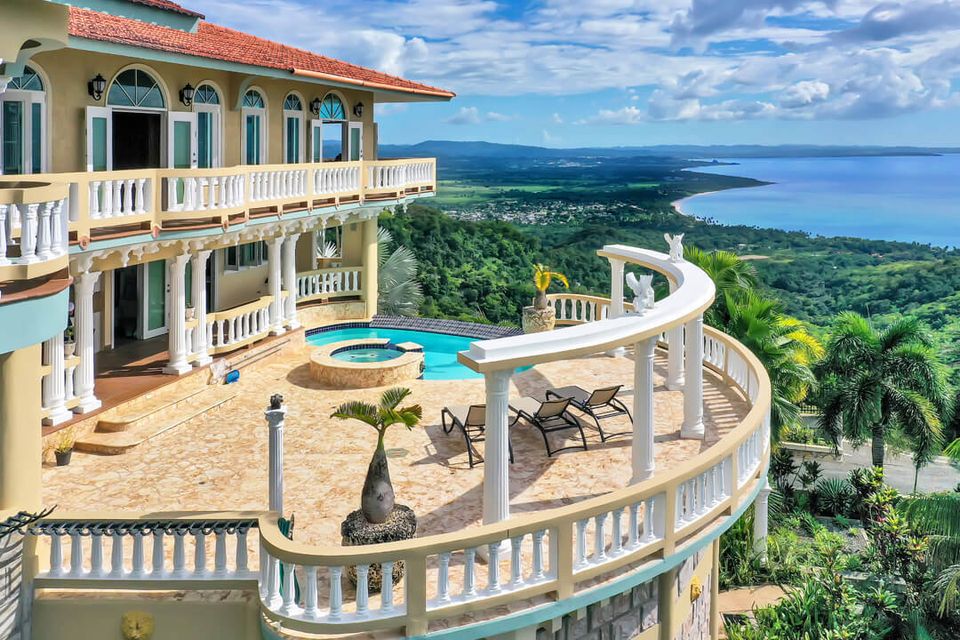 Magnificent Estate with 45 acres and the best views in the Caribbean.
Palatine Estate is a contemporary mountaintop gem with the best views in the entire Caribbean. This is an estate truly worthy of the name and a must-see one-of-a-kind property. Perched high above sea level in Palatine Hill, a gated community in one of the most exclusive neighborhoods in 

Rincón

, is where you will find this breathtaking grandiose property. Sitting on 45 acres, the estate's expansive grounds feature a private helipad, horse stables, guest houses, a wine cellar, and lookout towers. The estate encapsulates over 10,000 square feet of living space. The main living area is an airy Mediterranean-style mansion featuring contemporary white walls and an open floor plan, highlighting the modern home's marble floors and a beautiful staircase. The main living space is a grand room featuring a fireplace and artisanal woodworking on the ceiling. The home's design and attention to detail make it one of the most unique on the island. In addition to a separate guest house, the main house features a private apartment, with its kitchen and living space, perfect for company to enjoy their stay while maintaining privacy.
Enjoy the fresh mountain-top breeze ushering in through the home's many large glass-panned windows. Relax in luxurious seclusion surrounded by tall ceilings, luxury finishes, large balconies, and a saltwater pool and jacuzzi. The home's outdoor living space and large windows reveal the major highlights of the property: the view. Palatine Estate features one of the most expansive and grandest views on the entire island! The property's vistas expand to Cabo Rojo and far out over the open sea. Walk into the central living space, a grand living room featuring a wraparound walkway, showcasing 360 degrees of endless vistas.
Palatine Estate was built by visionaries in the early 1990s who fell in love with the land and the view, turning their dream of luxury sustainable living into a reality. Equipped with solar panels, wind generators, and a 30,000-gallon water tank, this estate is at the forefront of environmentally friendly living. This is a once in a lifetime opportunity to own an outstanding island oasis. More than half of the acreage of the estate sits outside of the Palatine Hill community. Free from HOA guidelines, this untouched land provides limitless possibilities. Create private bike and horse trails through the pristine lush tropical landscape. The options are truly endless! Take the opportunity to make  one of the most unique and grandest properties on the island your private paradise.
1 Palatine Hls, Rincón, Puerto Rico, 00677